St Marks Church and Hall
Cnr Barrington & Somerfield Streets, Somerfield, Christchurch 8024
Car Park entry from Barrington Street
Presbyter
Rev Andrew Donaldson

Phone: 027 428 7356
Preaching Plan
SEPTEMBER SERVICES
Sept 24th 10:00 am Rev Andrew Donaldson
Morning Worship
OCTOBER SERVICES
Oct 1st 10:00 am Rev Andrew Donaldson
Holy Communion
4:00 pm Contemplative Service
at Whareora, 8 Athelstan St.
Oct 8th 10:00 am Rev Stuart Grant
Morning Worship
Oct 15th 10:00 am Linda Cowan
All age worship
Oct 22nd 10:00 am Rev Andrew Donaldson
Morning Worship
Oct 29th 10:00 am Rev Andrew Donaldson
Morning Worship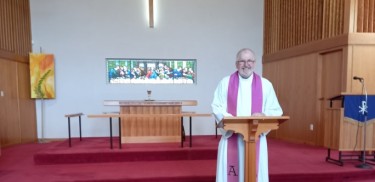 Our Vision
Growing & sharing our faith in God,
Joining together for worship & celebration,
Living faith by serving others and offering hospitality to our local community.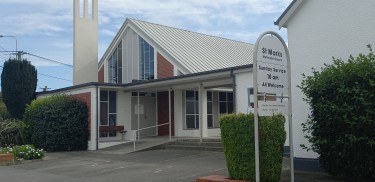 Our Values
Acceptance
Caring
Creativity
Outreach
Teamwork
Worshipfulness
Presbyter's Ramblings
PRESBYTER'S RAMBLINGS
On Sunday 23rd July as part of my preparation for the sermon I had been reflecting on the doctrine of reincarnation in the Judaic-Christian tradition. In the opening years of the first few centuries of the Common Era (CE), that is Anno Domini or (AD) reincarnation was not an uncommon belief in both Judaism and in the emerging Christianity.
The Jewish philosopher Philo who lived around the turn of the millennium (20BCE -50CE) teaches that one possible interpretation of the story of Jacob's ladder is that those who are climbing and descending the ladder were souls going back and forth between earth and heaven over and over again. Origen (185 CE – 253 CE) one of the greatest minds of the early Church taught reincarnation. Origen believed that there was no soul unworthy of God' love. Souls existed before the creation of the earth. The perfection of the soul took longer than one life on earth.
For him, controversially, even the devil will be reconciled with God at the end of his or her soul's lives. In the debate on reincarnation biblical texts are sited to support re-incarnation. Most notably that John the Baptist (Mathew 17:10:13)
John is seen as the reincarnation of Elijah, Philo experts assert that there was no prohibition on this belief in the Hebrew Scriptures.
While at Canterbury University, I studied Hinduism as part of my religious studies degree. I was fascinated by this religion. I was drawn to the idea of reincarnation. It was a concept that I had not grown up with. It is true that ultimately the doctrine of reincarnation in Christianity, was from the 400's CE on, slowly side-lined and then formally denied.
Today reincarnation is not taught as an essential element of Christianity. It is discouraged in most churches. You won't find support for the idea in the Catechisms of the church. You will however, find a repudiation of the concept.
That does not mean the concept died out. Most famously in the 12-century CE the Cathars in Southern France believed that souls would be reincarnated a number of times until they were committed to self-denial of the material world. Each soul would carry the experiences of their lives with them.
Over recent decades, there has been a growth in the number of stories of young children remembering past lives. Usually this has been memories of the most recent life. These memories are of normal lives. This evidence cannot be overlooked for supporters of reincarnation.
Reincarnation is associate mostly with Eastern Religions, Hinduism, Jainism , Buddhism and Sikhism. Pew Research finds in India large numbers of Indians in each of these religions don't believe in reincarnation. Interestingly in a paper published in June 2021 it was found that 29% of Christians and 27% of Muslims in India believed in reincarnation. They were more likely than Sikhs to hold this belief. Only 18% of Sikhs did so.
Where does that leave us today? There are those in the Church who will cry heresy! I'm not so sure. The notion is so widespread and makes sense for so many across the world religions. It appears to be a popular idea even amongst those who would identify themselves as being of no religion. We know it has been a part of people's Christ journey throughout the centuries. We also know that throughout the centuries, people have been punished and killed for holding onto such a belief.
My conclusion is that it is a valid belief not only within Hinduism but also in other religions including Christianity. The sad thing for me is that because of the cry "heresy" we've not been able to explore the concept in an open manner for most of our history.
Andrew
Contact St Marks