St Marks Church and Hall
Cnr Barrington & Somerfield Streets, Somerfield, Christchurch 8024
Car Park entry from Barrington Street
Presbyter
Rev Andrew Donaldson

Phone: 027 428 7356
Preaching Plan
Nov 21st 10:00 am Sunday Worship: Rev Andrew Donaldson
Nov 28th 10:00 am Sunday Worship: Rev Andrew Donaldson
Followed by the AGM and light lunch
DECEMBER SERVICES
Dec 4th 10:00 am Sunday Worship: Rev Andrew Donaldson
Holy Communion
Preacher Gillian Southey CWS
Dec 4th 7:00 pm Whareora Contemplative Service
at 8 Athelstan Street
Dec 11th 10:00 am Sunday Worship Lessons & Carols
with the Stedfast Band
Dec 18th 10:00 am Sunday Worship: Linda Cowan
Family interactive worship
Dec 24th 4:00 pm Christmas Eve Worship
Dorothy Haywood,Rev Donaldson
Dec 25th 9:30 am Christmas Day Worship
Rev Andrew Donaldson
JANUARY SERVICES:
Jan 1st 10:30 am Combined Service: Rev Dale Peach
with Holy Communion
at Aldersgate, Oxford Tce.
Jan 8th 10:30 am Combined Service: Rev Philomena Kinera
at Aldersgate, Oxford Tce.
Jan 15th 10:30 am Combined Service: Rev Anne Preston
at Aldersgate, Oxford Tce.
Jan 22nd 10:30 am Combined Service:
Rev Andrew Donaldson
at Aldersgate, Oxford Tce.
Jan 29th 10:00 am Sunday Worship at St Marks
Rev Andrew Donaldson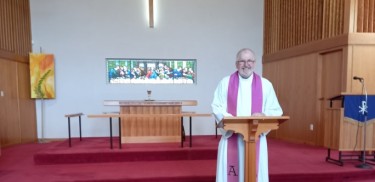 Our Vision
Growing & sharing our faith in God,
Joining together for worship & celebration,
Living faith by serving others and offering hospitality to our local community.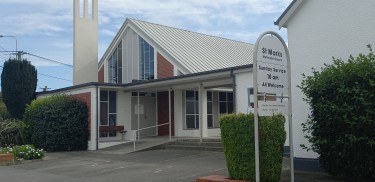 Our Values
Acceptance
Caring
Creativity
Outreach
Teamwork
Worshipfulness
Presbyter's Ramblings
Presbyters Ramblings - Saints and Martyrs of the Church
Recently while shopping at a local supermarket I noticed they had Hot Cross Buns, Halloween paraphernalia, and Christmas cards and decorations for sale. Easter, All hallowtide, and Christmas at the same time. We will be in All hallowtide starting tomorrow with Halloween, followed by All Saints and then All Souls.
Methodism celebrates All Saints and All Souls on the same Sunday. All Saints Day is always celebrated on November the 1st. It is remembered on the Sunday closest to that date. This falls on the same Sunday as Reformers of the Church (that is protestant reformers). That both celebrations fall on the same day fits with Methodist tradition. While the Church does not venerate the Saints and there is no single rule about who the title of Saint is applied to, we do treat the Saints and Martyrs as the heroes of the faith and as John Wesley taught there is much to learn from their stories. We hold John and Charles Wesley as heroes of the faith. They are not sainted but some have suggested they should be. The present Pope said if they were Roman Catholic, they would have been canonized (sainted). We use the title of Saint for those who knew the historical Jesus along with some others such as St Paul and those who bore the title before the reformation, e.g. St Francis. All 12 disciples, excluding Judas, are referred to using the title Saint. Martyrs of the Church have often carried the title of Saint in history.
We do have stories in the Methodist tradition of those who have been martyred for the faith but it has generally been our practice not to give them the title martyr of the faith, however, there have been some exceptions. The United Methodist Church, a global denomination headquartered in the USA, have bestowed this title twice in modern times; once in 2008 for Dietrich Bonhoeffer, a German theologian executed in Nazi Germany and then in 2012 it was conferred on Martin Luther King Jr.
Some Methodist Churches are named after the 12 disciples; historically in our parish, we have St Marks, but also in the past St Johns, Addington and St James, Cashmere.
Other churches have been named after Saints e.g. Timothy, Paul, Mary Magdalene, Mary – Mother of God, and Joseph. In New Zealand the Anglican Church holds the title of the most churches named after St Mary – Mother of God, the Roman Catholic Church comes second. There has, to my knowledge, only been one Methodist Church that was named after the Virgin Mary.
While Methodism is for the most part Arminian, named after reformation theologian Jacobus Arminius (1560–1609) a search of the internet revealed no Methodist Church named after him.
In New Zealand there are some churches that have carried names of missionaries. In Christchurch we might remember Aldred Memorial Methodist Church in Mairehau; named after John Aldred (1818-1894).
Andrew
Contact St Marks