St Marks Church and Hall
Cnr Barrington & Somerfield Streets, Somerfield, Christchurch 8024
Car Park entry from Barrington Street
Presbyter
Rev Andrew Donaldson

Phone: 027 428 7356
Preaching Plan
APRIL SERVICES
April 2nd 10:00 am Rev Andrew Donaldson
Palm/Passion Sunday
April 2nd 7:00 pm Rev Andrew Donaldson
Contemplative Service at
Whareora 8, Athelstan St
April 6th 7:00 pm Rev Andrew Donaldson
Maundy Thursday Service
at St Marks
April 7th 9:30 am Rev Andrew Donaldson
Good Friday Service
at St Marks
April 9th 10:00 am Rev Andrew Donaldson
Easter Day Service
with Holy Communion
April 16th 10:00 am Linda Cowan
All Age Worship
April 23rd 10:00 am Rev Andrew Donaldson
Harvest Festival
April 30th 10:00 am Wendy Russell
Morning Worship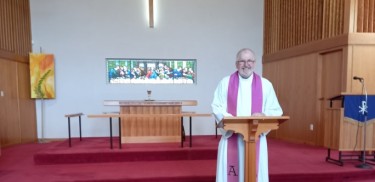 Our Vision
Growing & sharing our faith in God,
Joining together for worship & celebration,
Living faith by serving others and offering hospitality to our local community.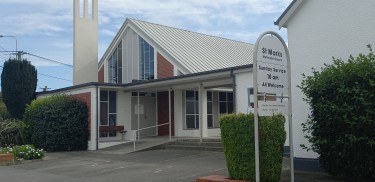 Our Values
Acceptance
Caring
Creativity
Outreach
Teamwork
Worshipfulness
Presbyter's Ramblings
PRESBYTER'S RAMBLINGS:
At the time of writing this piece we are about to enter into the season of Easter. Traditionally this marks the highest point in the Church Year. Next Sunday we will be celebrating Palm Sunday when Jesus enters into Jerusalem. A week later, we will remember his suffering, death and resurrection.
Over the last number of weeks the Lenten study group has been following the Gospel of Matthew's story of Jesus' and his disciple's journey to Jerusalem. We have heard how Jesus threatened the power of Rome and that of Jerusalem's temple and civil authorities. The Temple authorities, priests and elders, the Pharisees, Sadducees, Herodians, Pilate and Herod Antipas all took part in bringing Jesus down. What did he do that had everyone gunning for him?
Jesus' teaching spoke of the Kingdom of God. This new way of living that turns the social, religious and political order on their head. The first shall be last and the last shall be first. Jesus teaches that the Temple is not the place where God resides, God is spirit and we will worship in spirit. This undermined the role of the Temple.
He certainly did threaten the Pax Romana, The peace that was kept under the threat of the Roman sword. Messiahs come and go. Pilate had dispatched a number of would be Messiahs. Jerusalem at the time of Passover was certainly dangerous. If a disturbance did break out, Pilate and his soldiers were ready to put any uprising down. The Jewish authorities knew what this would mean, and would try to keep a lid on the people.
As the Easter Story unfolds, there is a sense of inevitably death. Jesus is, as we know crucified. This is not the end of the story, three days later Jesus is raised from death. Many traditions have formed around this event. Both biblical and extra-biblical. We know the biblical stories well, but for traditions that sit outside of the New Testament think, the Shroud of Turin, Jesus surviving the cross and heading off to the south of France or to the east.
There are many mysteries in the Easter story, the resurrection being one. The mechanics of resurrection have long been a topic of speculation. Of the mechanics, the truth is, we do not know. The why, we can answer.
God affirms the ministry of Jesus; indeed God set the Easter events in train. The affirmation of Easter is, in Jesus, we see God, In Jesus we see God incarnate, In Jesus we see God with us.
Andrew
Contact St Marks